You want to buy a 3D printer, but you don't know which one to choose?
Here are your 3D Printers Buying Guide to help you make your decision in the 3D printing jungle!
In this article, we will try to bring you as much information possible about the new low-cost 3D printers, but we won't forget 3D printers that are more expensive and might interest you if you're a business owner (a design studio or an architecture studio for example).
We'll go from the most expensive ones to the less expensive ones, because it usually means that the quality and possibilities decrease with the price (but, hey, it's not always true!).
So if you don't plan on spending more than $1,500 in your 3D printer, skip directly to the second part of the article.
Make Your Choice
The first thing you need to ask yourself is what you will be doing with your 3D printer.
If you want high-end outputs, you have to choose a ZCorp (which brings you super fast and very accurate models).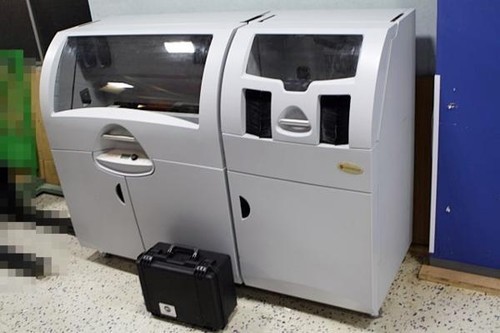 If you want to be able to use your 3D printed parts directly and in a durable way, Stratasys' Dimension should be on your list.
But if you're less interested in super high quality and more by building and experimenting with 3D printing for a lower price, Open Source DIY 3D printers are the right fit for you.
Size and materials are also things to think about when buying a 3D printer.
Different Options
In this 3D Printers Buying Guide, we will concentrate on the prices of the various 3D printers existing on the market.
Professional 3D Printers
Between $10,000 and $20,000, it's the price to afford for the professional 3D printers available on the market.
The Object 24 starts at $19,900. Objet's 3D printers are among the best 3D printers with their high-end accuracy, resolution, and finish. Dimension (with its uPrint series) and 3D Systems are excellent machines as well.
Z Corporation, sold at $14,900, proposes the fastest 3D printers available (the ZPrinter 3D prints at 0.8 inches per hour!) and the material cost is pretty cheap ($0.60 per cubic in).
Dimension 3D printers (between $13,900 and $18,900) are a good choice for whom want to produce final and durable products. Even is the material cost is pretty high compared to others, strength, and thickness of assets are a good advantage.
3DSystems, the other giant of 3D printing industries (with Stratasys), is selling its Projet 3D printers between $10,900 and $14,500. 3D Systems offer the only photopolymer with a material cost estimation of $120/lb. These 3D printers are fast and print with a great accuracy, resolution and finish.
The high cost of equipment and poor choice might be a weakness, depending on the kind of projects you are working.
Personal 3D Printers
Prices get cheap fast in the 3D printing market. If you want to experiment with 3D printing but don't want to spend all your money on it, personal 3D printers might be the solution for you.
Makerbot, Ultimaker, BotMill, Up!, Cubify are all 3D printers below $3,000.
Some sold as kits (it means that you will have to assemble it), some are half-assembled, and others fully assembled.
Usually, the Open Source ones are sold as both kits or assembled the device.
The ones that are not Open Source are ready-to-print.
Depending on the package, it won't take you the same amount of time to make it work. The documentation will be clear and vigorous or not; the community will be here to help or not.
We advise you to take some time to read the information regarding each of these low-cost 3D printers so that you won't be disappointed.
The MakerBot's 3D printer is called the Replicator. It will cost you around $1,000 to $2,000 depending on the version. It's one of the most advanced Open Source 3D printers available, with the capability of deposing two colors or materials simultaneously. If you adjust the parameters at its best, you can get layers 0,008 to 0,012 thick, which is very good.
Here we show all the different versions available:
Other 3D printers using thermoplastic extruding techniques are Ultimaker, sold as a kit for $1,700 or Bits from Bytes ($1,400 as a kit, $3000 assembled) and BotMill ($1,545 fully assembled), both owned by 3D Systems.
[email protected] and Up! are both a little more expensive and older. The [email protected] 3D printer sells at a price of $2,500 (parts only). Up! (owned by PP3DP) will cost you $2,690 and is sold already assembled.
Fabbster 3D printers no longer develop. Cube by 3D Systems is a fully assembled 3D printer which is not Open Source and sells at the price of $1,299.
If you're comfortable with building a kit, you will get the best 3D printing results with Makerbot, Ultimaker, Bits from Bytes and BotMill. Even if the 3D printing process is globally slow and the choice of material remains weak (mostly ABS plastics), you will have a lot of fun building the kit and playing with it. After a few weeks of practice, you will be able to 3D print small and medium pieces for all kind of projects.
The RepRap is unique as it's the mother of all these Open Source 3D printers. It has the particularity of being able to replicate itself by 3D printing its parts. As a result, the price of the RepRap is very variable, depending on the parts you plan on buying, and the parts you plan on having 3D printed by you or the RepRap community. Count around $520 for an entire RepRap Mendel second generation with all the mechanical parts.
On the bottom side of these 3D printers, pricing scale is the super low-cost winners that are Printrbot and MakiBox. They are both Open Source and are among the easier kits to build. Printrbot is almost ready to launch at the price of $499. Makibox, designed by Makible, will be available at $300. These two last ones are fully available on the market, and new ones should launch in the next months.
The 3D printing material can be pretty expensive, depending on the kind of equipment and the amount of powder or filament your 3D printer is using for an average 3D print. We recommend that you take a look at the material cost before to buy your 3D printer.
The low-cost 3D printers are also the cheapest for the 3D printing material. It is usually less than $20/lb. The more expensive 3D printers (3D Systems, Objet,  Dimension) are also the ones with more expensive 3D printing material. Count from $130 to $175 per lb for an Objet 3D printer or a Dimension one. The 3D Systems' Projet requires a 3D printing material costing $120 per lb.
You can also check other 3D Printers Buying Guides on Google